Lares special applications
Linear optical bench designed for the movement of a color analyzer camera.

The camera moves with manual sliding and is fixed in position with a locking lever.

In front of the camera, a rotary table mounted on a lifting system.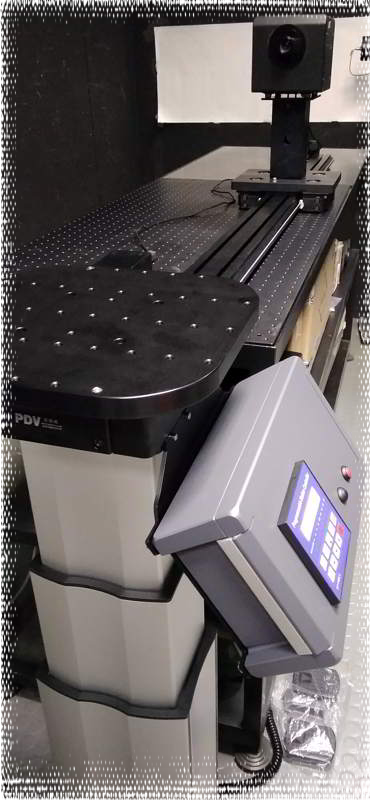 Is the brainchild of a customer.
He asked a device capable of emitting lights of different colors to be able to measure, by placing them between this and the photocell of the luxmeter, the attenuation of transparents.
The basic version contains 3 LEDs: Warm white, Red and Amber, that emits respectively 73Cd, 51Cd and 39Cd without lenses with a beam opening of about 60°.
An improved version can emit, via the use of lenses, light intensities at least three times higher.
The basic version has dimensions of 82mm x 60mm x 84mmH and is made of black anodized aluminum; works with an external 12V power supply.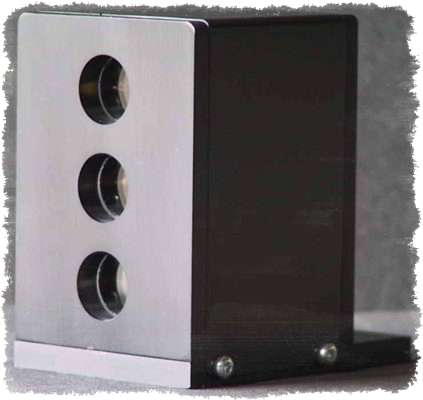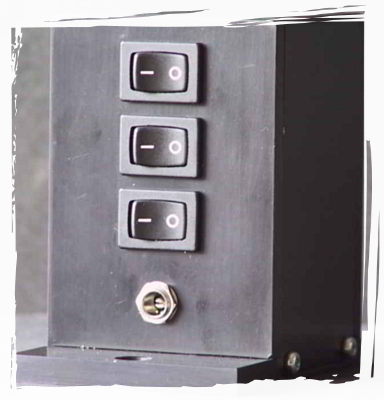 Developed in order to follow the trend of light in a climatic chamber according to temperature or a time interval.
• a luxmeter with photocell equipped with external light shielding and to be placed, through a tripod, facing a climatic chamber glass;
• a thermal probe to be inserted inside the chamber;
• two bushes receive status changes from the climate chamber.
These elements are connected to a data logger programmed to detect light and temperature trends and the digital state.
Through an Ethernet connection the data logger is connected to the computer, also located in a remote place, on which a dedicated acquisition program runs. Acquisition takes place whenever the data logger receives an impulse from the climate chamber management program that warns of a temperature change. The program ends with a sampling at the maximum set temperature.
After acquisition, the program generates, on the operator's command, an Excel file containing a graph showing the percentage ratio between the light emitted at the first sampling at room temperature and the subsequent measurements taken between -40 ° C and + 80 ° C .